This year, the nationwide Pátria roadshow was organised for the seventh time. In March and April, our reseller partners could get acquainted with the 2015 product range of the office supplies division in 9 locations – in Budapest and in 8 county seats.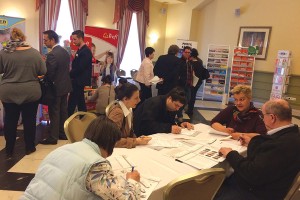 We have compiled special offers for the nearly 900 customers taking part in the professional meetings and offered discount prices for more than 1,000 products. Among other things, we presented our newest Clairefontaine collection – the Elle, Prisme, Ruckfield and Kalipso exercise books, pencil cases and desk sets, loose leaf notebooks, file folders with elastic band –, Centrum gelly roll pens and ballpoint pens, Stanger markers, Info Notes sticky notes and page markers, Durable information tables and office accessories, Novus staplers, the Pébéo paint set, and the Trodat rubber stamps recently introduced to Pátria's supply. In addition to the latest import products, the 2015 collection of the self-produced and distributed Pátria Design exercise books debuted at the road show as well. Many people were again interested in forms, creative and party products, as well as in Trefl and Wader toys.
Our roadshow was extremely successful this year, too – sums up commercial director, Ferenc Csenki. Based on the feedback we received, we have managed to fully meet the expectations of our customers and even the orders placed by our resellers during the series of programmes fulfilled our expectations.